Candor alumnus Becky Halstead will be inducted into the National Women's Hall of Fame on Saturday, 9/24/2022! The event will be Livestreamed at 2:00 pm on Saturday.
Click here for the Website Link, here for the Livestream Link (also found at the bottom).
Please Note: The Candor High School auditorium will be open from 1:45-4:00 for a livestream of the ceremony on Saturday, 9/24.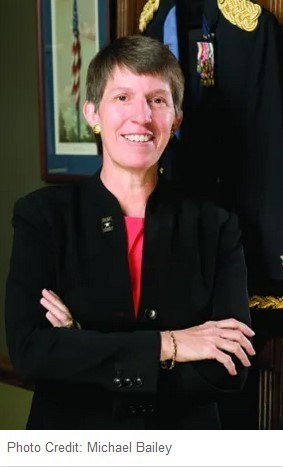 During her nearly three-decade career in the U.S. military, Rebecca "Becky" Halstead achieved multiple historic milestones. In 2004 she became the first woman in U.S. history to command in combat at the strategic level when she was promoted to senior Commanding General for logistics in Iraq. In this role she was responsible for leading over 200 multi-disciplined units, located across 55 different bases, providing supply, maintenance, transportation, and distribution services support to over 250,000 personnel serving in Iraq.
Halstead graduated from the United States Military Academy in 1981, a member of the second Academy class that included women. She became the first woman to graduate from West Point and attain General Officer ranking when she was promoted to Brigadier General in 2004. After retiring from military service, Halstead has continued to lead and to serve. In 2010 she founded her leadership consultancy company, STEADFAST Leadership, LLC, which specializes in inspirational and motivational speaking, developing leader-training programs, and coaching and mentoring leaders.