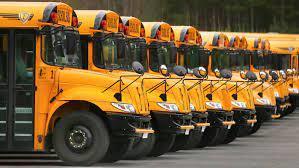 2022 Annual Football Golf Tournament Fundraiser See you on the course!

All Chromebooks and their charging cords will be collected tomorrow (June 14th) at the end of the day in your Crew classes. If you need your device to study for regents exams you will need to tell your Crew teacher and you can turn your device in after your last regents exam.

Last Chance for CCSD's Summer School Registration. Registration will permanently close at 8:00am Tuesday June 14th.
https://bit.ly/CandorSummer

The Varsity Athletics Award Ceremony will be on Monday, June 13 at 7PM in the HS Auditorium. Desserts to follow in the cafeteria. Hope to see you there!

2022 Senior Walkthrough at the Elementary School! On Wednesday, June 1, the Class of 2022 Seniors participated in the annual Elementary School Walkthrough. To watch the video of the senior walkthrough, go to
https://www.youtube.com/watch?v=zkkDqoLuDeE
Congratulations, Seniors!

Please join us for Candor Night on Tuesday, June 14th! The Senior High Chorus will be singing the National Anthem at the start of the Elmira Pioneers baseball game. Tickets are only $6 for the Candor Community!! If you're interested, please email
aknighton@candorcs.org
by Friday, June 3rd.

Mrs. Hodges and Ms. Handy taught 6th graders about Newton's Third Law, Acidic vs Basic pH, and pressure while make water bottle rockets. Students were able to shoot their own rockets up to 20 feet into the sky! They were challenged to use the design process they have learned during this school year to collaborate with a classmate and design a rocket, that would stand on its own. The rocket had to balance on sticks so that the cork could shoot out from under it and soar into the sky. Check out more pictures on our Facebook page at facebook.com/candorcsd

The U.S. History Regents Exam scheduled for June 1, 2022 has been canceled. All other N.Y.S. Regents Exams will be administered as planned.

Due to the possibility of inclement weather, Candor High School is canceling ALL after school activities for Monday, May 16th. image provided by Pexels.com

REMINDER: School Board Election & Budget Vote are TOMORROW, Tuesday, May 17 from 12-9PM in the HS Auditorium. We hope to see you there!

Spring Concerts are June 7, 8, and 9! Please mark your calendars. See image below for more details.

It is NYSPHSAA Mental Health Awareness Week! Each day this week will have a specific mental health focus. You can find more information here:
https://5il.co/19prt

We have now completed both ELA & Math State testing! Just a reminder that if your student missed either day of math testing last week, they will make up those days starting this Tuesday, May 3. THANK YOU to all students, teachers, parents, and caretakers who helped make Math & ELA testing a success.

TST BOCES Career and Tech Students of the Month: Congratulations to the following students Lucas Kunte, Heavy Equipment Anna Guggenheim, CEP Zach Spada, Food Services

Please consider joining the newly formed Parent Teacher Student Association. An informative meeting will be held on April 26 in the High School Auditorium.
Candor Schools are CLOSED today, Tuesday, April 19th.

We are live with new apparel! For one month only, take 25% OFF all apparel with code SPIRIT when you shop the latest fan wear & accessories from all your favorite brands. Candor Store: bit.ly/3rztl8d SVEC Store: bit.ly/3Eo39CL

The 5th and 6th graders did a great job today on Day 1 of ELA State Testing! Just a reminder that tomorrow is our second and final day of ELA testing. Make-ups will begin tomorrow in the Elementary and on Monday, April 4 in the Junior High, through Friday, April 8 as needed. Thank you for your support of our students!